IDEAS FOR CLIENT GIFTS THAT WILL BE REMEMBERED
IDEAS FOR CLIENT GIFTS THAT WILL BE REMEMBERED
We're just two months away from the end of the year, which means it's time to start selecting holiday gifts for your clients and your employees. Everyone wants to make sure this money is well spent and that gifts are appreciated and used. Here's some advice to steer you in the right direction:
Stand out among holiday gifts
Anyone can order a generic gift from an online or retail store, but sourcing a unique, high-quality branded gift can help your company stand out during the busy holiday season.
Associating your brand with a high-quality item can allow the gift's brand qualities to rub off on your company by association. A North Face fleece jacket, an authentic swiss army knife, or a piece of Waterford crystal displaying your brand name all make certain statements about what your company stands for.
Give Something Everyone Can use
Just because you like hitting the links every weekend doesn't mean all your customers love golf too. If you can't deliver personalized gifts to each recipient, make sure your gift is useful for anyone. Tech gifts like wireless chargers or bluetooth earbuds are appreciated by anyone with a smartphone.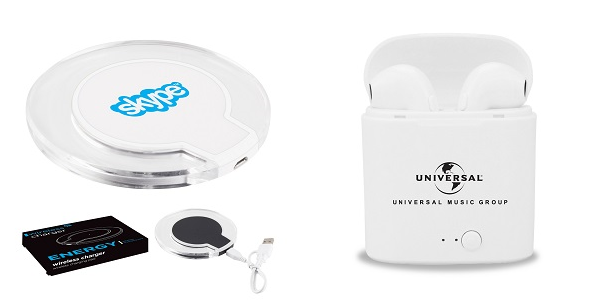 Don't let your message disappear
People love gifting food - cookies, popcorn, candy, fruit baskets, and cheese and sausage platters. But beyond the little card that comes with the gift, how much branding impact does this approach really deliver? Did you know that you can order custom cookies and chocolates with your logo on every piece? Or you could package that cheese and sausage with a branded bamboo cutting board? Then everyone in the office that partakes knows exactly who is responsible for the treats.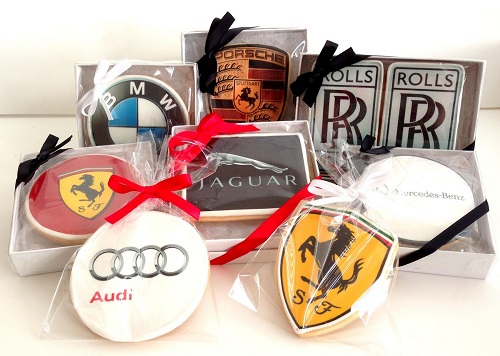 There are also branding opportunities for adding your logo to the outer packaging of a food gift. Check out this box of brownies where the logo tin could be used for a long time after the treats are gone.
Tie your gift to a cause
It's always great when you can give to your clients and employees while giving back to charity at the same time. At Suttle-Straus our holiday card always comes with a donation to a local charity.
There are tons of branded items that include contributions to a cause. For example, Patriot tumblers donate 20% of net proceeds to the non-profit organization Homes For Our Troops.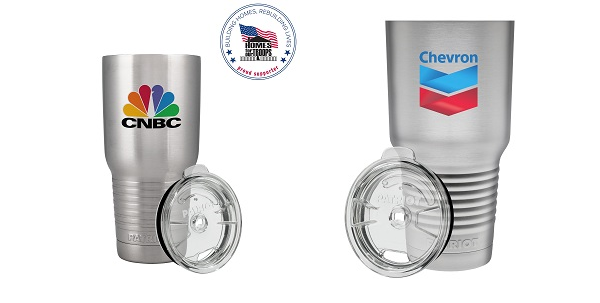 Helping Hand Partners offers spa day gifts that are handcrafted at their 1eleven workshop in Chicago by adults from under-served and overlooked communities. So through your gift you're also supporting people who need assistance getting into the workforce. You could also show that your company is eco-friendly by choosing a recycled, biodegradable, organic or sustainable gift.
The list of gift possibilities is as big as your imagination. So if you have been giving the same client and employee holiday gifts every year, perhaps it's time to try something new?
---